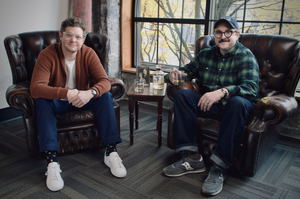 Everett: "Are we really doing this?"
Christian: "Yeah, I think we are."
Cold Beer & a Hot Idea
Foster Watch Co. was conceived over post-golf beers in Eugene, Oregon, by Everett Meadows (who knew something about watches) and Christian Amondson (who knew something about online business).
Christian asked if Everett had ever considered starting his own watch brand. Indeed he had, but he wasn't sure how to pull it off.
In fact, Everett already had the exact watch he wanted to make in mind, the 11 Atmos Skin Diver.
For Christian, this seemed like a no brainer: backing someone with a deep love and knowledge of micro-brand watches, so he was all in.
When they walked back up to the cars to head home, Everett turned and asked; "So are we really doing this?" And Christian repleid: "Yeah, I think we are."
It didn't take long to start sketching the designs—both for the watch and the business—and start into the proess of making the 11 Atmos a reality.
And Foster Watch Co. was born.
Foster's Vision: A Watch for Everyone
Foster Watch Co. was born to challenge the idea that more is more. 
With our debut watch, the 11 Atmos Skin Diver, we aimed to make a watch that folks could fall in love with without worrying about how deep the water resistance or how high the price tag.
We aim to make every watch with the best materials, components, and finishes we can get our hands on, but desire, above all, to use those things to make beautiful and fun watches. 
Named after Foster Road in Portland, Oregon (near where we both grew up), Foster Watch Co. cuts against the grid and seeks to capture the spirit of the working class everyman.
In short, the 11 Atmos is a watch for everyone and for every situation. It's handsome and understated, but functional and a pretty good time.
Headquartered in Eugene, Oregon, Everett & Christian inspect, tweak, and regulate every single watch that we sell and aim to deposit a little bit of the state we love into each watch (not literally... we hope). 
We are so excited to have made this a reality, and so thankful for the folks who have decided to join us. 
Cheers,
Everett & Christian