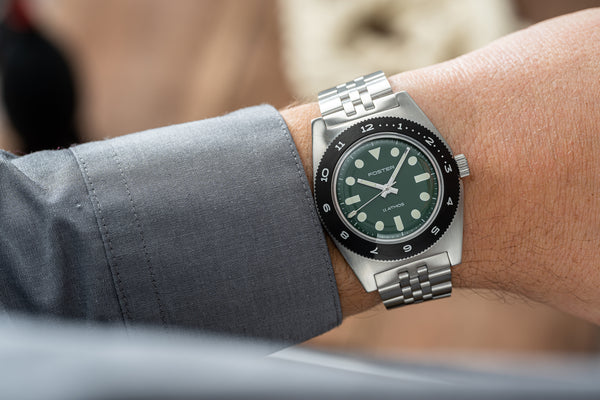 The 11 ATMOS SKIN DIVER
A watch designed for drinking whiskey, eating oysters, and anything else you do when you're living your best life.
Shop the 11 atmos
11 Atmos
skin diver
Our debut watch was designed specifically for eating oysters, drinking whiskey, or getting frisky in the surf.
But with timeless styling and 110 meters of water resistance we are confident it can be worn in nearly any environment.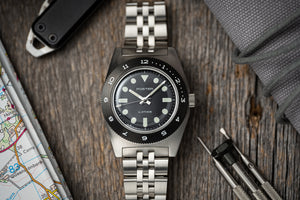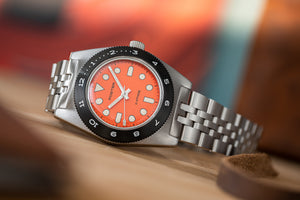 DIALS:
Black | Orange | Green
BEZEL:
Black PVD coated steel
One-piece construction
48-click
CASE:
316 L Stainless Steel
Diameter: 39mm
Lug-to-lug: 48mm
Thickness: 12.1 (w/crystal)
WR: 110mm
MOVEMENT:
Miyota 90S5
42 Hour Power Reserve
No Date
Frequency: 4hz
PRODUCTION:
Non-limited collection
200 Black; 50 Green;
50 Orange for current sale
Serialized 0XXX-0XXX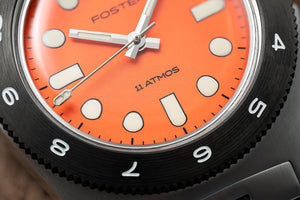 48-Click One-Piece Bezel
We were told that a one-piece, 48-click, bezel would practically be impossible.

But we did it anyhow. You're welcome.
Useable Dual Time Bezel
You noticed the dual time markings on the bezel... because you're smart and you know watches.

We keep time in quarters, halves, and full hours. Which is why 48 Clicks is, well... perfect.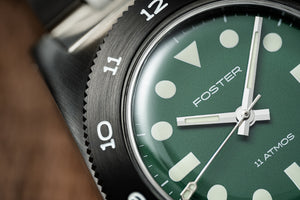 Acrylic Crystal
We know it's old tech. But, it's warm, refracts the light in wonderful ways, and you can polish out any scratches.

Oh, and just look at that freaking beautiful crystal!!!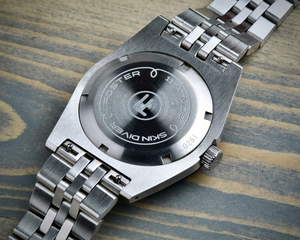 Recessed Case Back
It's got junk, but not in the trunk.
Due to the position of our movement and a very thin 12.5mm case (with crystal), we were able to partially recess the case-back into the case, resulting in an extremely comfortable wearing watch.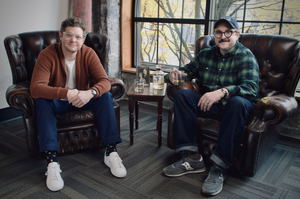 About Foster Watch Co.
A little golf, a couple beers, and a new watch company was born. Everett and Christian are on a mission to make the watch for everyone.
Read The Story